Programmes for children and youth
School at the cinema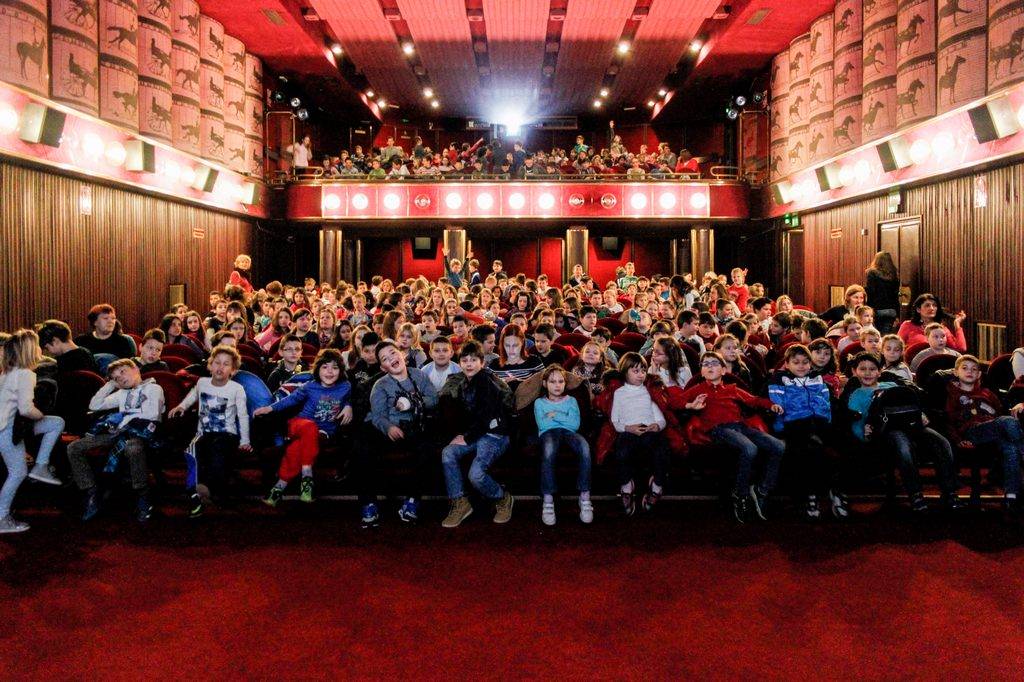 Art-kino pays special attention to the promotion of film culture among children and young people.
Those efforts are one of the key programmatic directions of our institution. Art-kino's most prominent project intended for educating children and young people about film is the programme entitled School at the Cinema. This project was initiated in 2009 in collaboration with the Croatian Film Association and the City of Rijeka Culture Office. Since the very beginning, the project was intended to supplement elementary school courses dedicated to media culture in elementary schools in Rijeka the with the aim to raise awareness, promote and develop film culture among children and youth.
School at the Cinema programme is an extension on the topics tackled in the framework of media culture courses thought during elementary school education in line with the elementary schools curricula. In that context, Art-kino has compiled a programme that includes screening of selected films for each grade of elementary school. Screenings take place in appropriate spatial and technical conditions and brief introductory lectures are given on particular topics and films. Our intention was to reach a number of objectives through the implementation of this programme. Above all, we would like to motivate children and young people to watch films on big screens, in silence and darkness of a movie theatre to get a more quality perception of a particular film. Furthermore, by focusing on certain elements of film language we would like to develop capacities to understand, analyse and value films in children. Finally, by showing various films and explaining the time of their creation, genre and geographical background, our intention is to develop selectivity in choosing which film to watch. All the above stated elements are in line with the learning objectives set out in the media culture curricula, i.e. training in communication with the media, film reception and skills necessary to evaluate.
While the School at the Cinema programme for elementary schools is linked to the topic of media culture in the Croatian language curriculum, high school programme does not have that direct link due to the fact that high school curricula does not comprise any topics related to that field. Therefore, starting from the position that students have previously acquired knowledge during elementary education in the form of competencies for critical evaluation of films and basic knowledge of film language (film expression film conventions, techniques and other elements) the School at the Cinema programme was structured to focus on direct or indirect correlation between film content and the curricula for particular subjects. Furthermore, another objective of the School at the Cinema programme for high schools is to present valuable films, either classics or contemporary ones, in order to stimulate critical thinking necessary for selecting films and avoiding uncritical and consumerist approach to film. The objective is to educate generations of children in the School at the Cinema who would become aware and educated audience instead of passive film consumers.
One of the main objectives of the School at the Cinema programme is to educate generations of children to become aware and educated film audience instead of passive film consumers.
---
How to apply to School at the Cinema?
pply to the School at the Cinema via phone: 051/445-741 or 091/555 8447, every business day from 08:00 to 14:00 hours or via e-mail: barbara.zupicic@art-kino.hr.
The programme is co-funded by the City of Rijeka, Croatian Audiovisual Centre, Europa Cinemas, Croatian Film Directors' Guild and Primorje and Gorski Kotar County.
In addition to that, Art-kino organises other educational screenings in the framework of the Educational Mornings in collaboration with the Festival of Tolerance. Also, Akcija! Festival promotes film creation among children who live in the Primorje and Gorski Kotar County.
Admission to all screenings is free of charge. It is necessary to announce the visit via an e-mail sent to barbara.zupicic@art-kino.hr
---
School at the Cinema programme for the school year 2018/2019:
---
School at the Cinema archives: