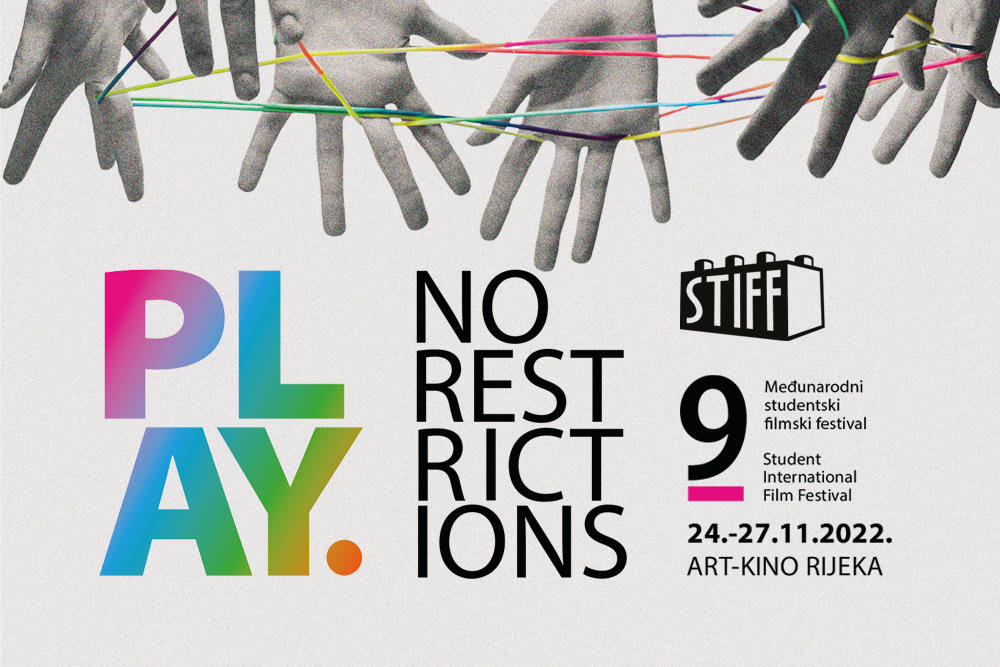 Program
Protekle tri godine temeljito su potresle, tektonski izmijenile našu stvarnost. Način interakcije, mogućnost i ideju bliskosti, ekonomske i političke turbulencije koje ubrazano brišu i pišu nove granice, modeliraju naše postojanje od bazičnog komfora do surovog opstanka. U želji da se filmom i umjetnošću borimo protiv destruktivnih, paralizirajućih osjećaja ove distopijske stvarnosti, u želji da svijet analiziramo kroz maštu i mogućnosti odlučili smo 9. izdanje Međunarodnog studentskog filmskog festivala (STIFF) posvetiti zaboravljenoj muzi djetinjstva - IGRI.
Kroz filmski i umjetnički program ovogodišnjeg festivala želimo istražiti načine ljudskog djelovanja koji nemaju uvijek temelj u svrhovitosti, no također i dvojaku prirodu igre kao slobodne i spontane aktivnosti, te aktivnosti s propisanim setom ograničenja i dozvoljenih poteza. Želja nam je reafirmirati važnost igre kao aktivnosti kroz koju učimo o sebi i o svijetu, pritom zadržavajući imperativ užitka i kreacije.
Bogati natjecateljski program čini 40 filmova svih žanrova i filmskih rodova iz 16 zemalja svijeta, podijeljenih u 11 programskih blokova koji svojim naslovima podsjećaju na najpoznatije društvene igre odnosno na poteze i taktike koje ih čine (Poluvrijeme / Half-time • Pantomima / Charades • Catch and Toss / Dodavanja • En Plein • Dama / Checkers • Zaleđe / Offside • All in • Kontrolna točka / Check point • Time-out • Skrivači/ Hide and Seek • Špekule / Marbles). Izvan konkurencije riječkoj publici predstavit će se i pet riječkih dokumentarista, polaznika prošlogodišnje edukacije Nova škola dokumentarnog filma udruge Filmaktiv.
Posve neobičan prostor za igru otvaramo kroz popratni program festivala koji nas zove da aktivno promislimo i ponovno živimo svoju svakodnevicu. Multidisciplinarna izložba all GAME no PLAY uzima si za pravo da rekreira naše svjetove prisvajajući i mijenjajući poznate obrasce, dovodeći svakodnevne navike do apsurda. Radionički program pod nazivom Igraonica / Arcade ima za cilj sudionike zaraziti čudesnim vještinama iz područja izvedbenih, vizualnih umjetnosti i književnosti: plesnom improvizacijom, snimanjem i digitalnom obradom te tehnikom blackout poezije.
Diskurzivni program festivala Doigravanje/ Extended play ove godine se ušuškao u zabavnom i neformalnom okruženju OKC Palacha i to u formi kasno-večernjih razgovora s filmašima i autorima izložbenog programa.
A nakon uzbudljivih filmskih i umjetničkih sadržaja svakog dana u OKC Palahu je i festivalski party Igranka.
Svi programi festivala su kao i uvijek u potpunosti besplatni!
Let the games beGin!