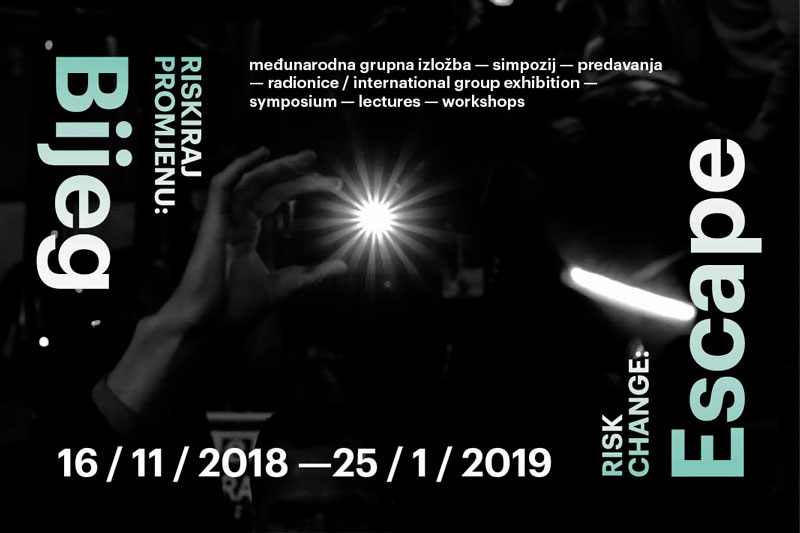 Program
A film program within an exhibition Escape: Risk Change, by Museum of modern and contemporary art Rijeka / Film program selector: Diana Nenadić (Croatian Film Association).
Program schedule:
SOSKE, directed by Rada Šešić; Croatia, 2001., 32 min. – documentary
ARME LEUTE, directed by Vlado Kristl; Germany, 1963., 8 min. – experimental-narrative
RUN, directed by Mladen Stilinović; Croatia, 1973., 7 min. – experimental
TERRA ROZA, directed by Aldo Tardozzi; Croatia, 1999., 20 min. - documentary
IN WHITEST SOLITUDE, directed by Rada Šešić; Croatia, 2003., 10 min. – expperimental
An escape: Risk Change / text: Diana Neadić, program selector
Wheather we comprehend it as an extreme form of migration, or a purely pshchological phenomena, for the Escape to occur – individual or collective – there is always a neccesary kind of threat or coercion involved – physical, existential or psychical. Sometimes, it's a whirl of circumstances which persecute a person in exile, as well as if she is "safe".
These are the types of escape thematised by Croatian authors short films in this program.
Half of them originate from ideological pressures (as reasons to escape somewhere or into something) conflicting with existencial ones, in order to predominate or complement one another, in the second half of the twentienth century. Vlado Kristl, the only real croatian film dissident, managed to escape from the first ones, but as an displaced individual, he continued to be haunted by the fear of the idea of the (poor) collective, which he has shown through his performance in the german Poor people (1963.).
A conceptual artist and filmmaker Mladen Stilinović spent his whole art existence at home, defending himself from different (ideological and other) marks which contaminate everyday life, so the same thing "happens" in a short movie Run from 1973.
Other selected films are all a reaction to exile destinies, caused by war and other conflicts from the end of the 20th century. The two films by a Bjelovar film critic and movie director with a Netherlands adress Rada Šešić are relating to this as well. In whitest solitude(2001.) her poetic and melancholic escape to the past is expressed with coreography of a dancer inside the walls of a room filled with patina of family and other memorabilia, while the documentary tryptich Soske from the same year gives voice to exiles from different parts of the world (Burundi, Chechnya and Sri Lanka), to their "yesterdays, todays and tomorows", through the composition of three different tapes/screens.
Finally, the actors in the documentary Terra roza by Aldo Tardozzi, 1999., are hiding from the Balcan canons in the the pink decor of their Istrian sanctuary, demonstrating that it is possible to run "in the same place" but not so much to runaway from it.
The program is carried out through the cooperation of Museum of modern and contemporary art, FACTUM, Goethe-institute, Croatian Film Association and Art-kino.