March in Art-kino
Support our Girls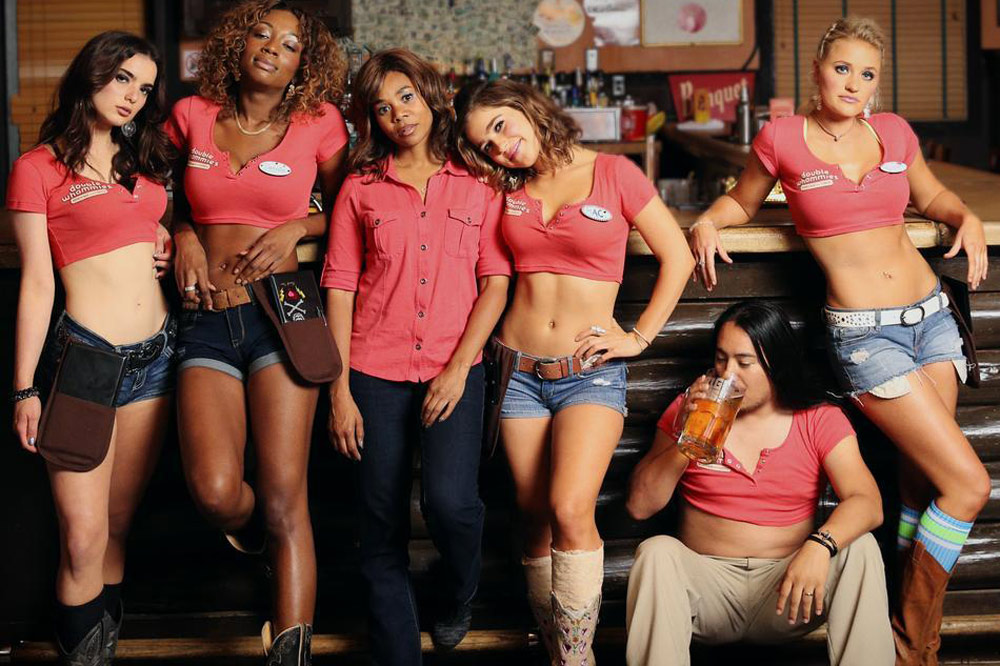 Dragan Rubeša: 03.03.2020.
This new american independent movie is above all, a local story, which is to be percieved in the discourse of territory. The same thing that Video Archives in Californian Manhattan Beach represent for Tarantino, Kim's video does for one of the mumblecore movement pioneers, Andrew Bujalski, although the mumblers in his piece Support the Girls are replaced by a scream of Lisa and her sisters on the top of a building. This is a scream of freedom. For, besides the guys in military uniforms which are visiting their brestaurant, Bujalski introduces a second group of uniformed fighters, precarious waitresses in pink tops. This is a movie which primarily functions as an instrument of empathy, but also, as an act of solidarity, even though its title is a gender inversion of all those military slogans, as a sign of support to our boys across Iraqi and other battlefields. This is not another naive essay about post-racial America, but a sanguine comedy going for the art of rhytm. The atmosphere is extremely frenetic, but not in the manner of Wiseman's Sports bar.
The role of a fighter is also taken over by Hakonarson's heroine Inga, who has no time for tears, fighting against the monopoly of Island's milk cooperatives in The County. Although we're trapped in the Island's sweater milieu, Inga conjures tank-tops of Soderbergh's Erin Brockovich. However, while Erin incarnates an individual fight model, in order to save her country (the force is in the individual), Hakonarson preferes a collective model imminent to European culture (the force is in the common). For, according to this author, agriculture and its culture cannot be observed apart from a film culture. In a milieu where everything comes down to conversations about Amazon and holiday homes, in which a well intended whistler becomes tired of robotised operations which are forcing her farm to produce more milk.
And while Hakonarson and Bujalski are the sanguine sprouts of #MeeToo urgency, The Dreyfus affair in An officer and a Spy, becomes a Polanski affair. For, the great Roman Polanski is not the first one dealing with this theme, but he is the first one who handles the motif of the wrongly accused, while at the same time having the status of the defendant himself. Thereby, the author elaborates all of these graphological analyses, Kafkaesque parallels, opressive machineries, investigation minings, and an escape into the sepia of the Devil's island with a particularity of a devoted historian, whilst his narrative structure seems like a mosaic, made out of the same pieces of paper which colonel Picquart is trying to assemble and affix into a whole, in order to discover the real truth.
An utterly different revolt is occuring in the head of Dardenne brothers'  Young Ahmed, who, in lieu of manifesting its loyalty to militant Islamism by joining Daesh's brigades in Syria, does it in his school, by planning to kill his teacher. Even the magnetic imam, which will harness his teen ideals, and compel him to focus on purity of body and soul by offering the illusion of hapiness, is unable to comprehend his decision. How to stop this young fanatic, by not falling into a trap of naive happyend? For, Ahmed stands for yet another avatar of restless personality, sourced from Dardenne's opus, from Rosette, and so on. Although, Amed's character owns something enigmatic (glasses, bracelet).
And just like the Dardenne brothers continue to film the same movie over and over, Roy Andersson continues filming the same bloodless, inert figures rambling through the author's tableaus like zombies. Like a priest who lost his faith in God in About endlessness, so he turns to a psychiatrist. But gets thrown out of the ordination, because the working hours are over, and his physician needs to catch the last bus.
However, if the revolt in Bong Joon Ho's Parasite generates a birthday massacre when seen through a class discourse, and in Tarantino's Once upon a time..in Hollywood , that same massacre plays the revision of Hollywood history, in Peckinpah's masterpiece The Wild Bunch, the bloody finale in the slow motion dust, nihilistically revises mythology of Ford's westerns, observing the twilight of the Wild West through a prism of grouped marginalised renegades, who will embrace death in the hands of general Fernandez and his army.
If Peckinpah demonstrates the end (of western), Godard shows the beginning (of Nouvelle Vague), with Jean Seberg, who quotes books, ideas and names, while selling Herald Tribune on Elysian fields, and Belmond, who is trying to sell a stolen car. In a thrilling fusion of Mozart and cool jazzy riffs. After a recent visit of Godard's nephiew Paul Grivas in yours and ours Art–kino, within Film Mutations, À bout de soufflé imposes itself as a logical extension of our mutation story. Breathless.