January in Art-kino
Parasites and bees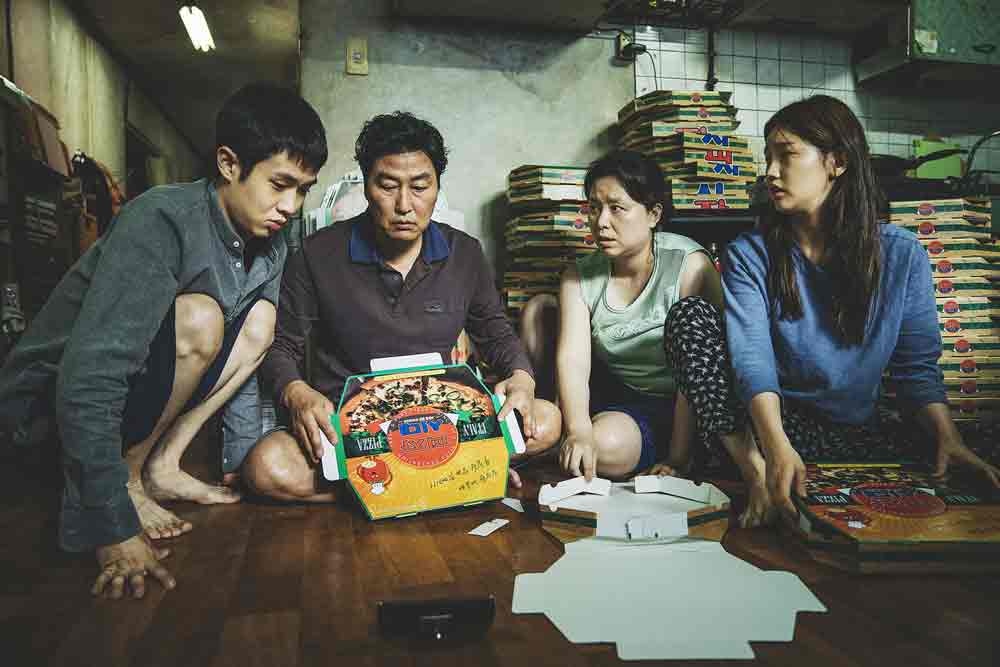 Published: 08.01.2020.
The great Bong Joon-ho with his movie Parasite reinforced even more his status of a pessimistic demiurge who observes the Korean class society from a distance. That same society is becoming another sick tissue, whether it needs space and money (Kims) or is reduced to figures of nervousness obsessed with American culture (Parks). Massacre is imminent. That is why the infiltration of a poor family in the milieu in which it does not belong owes much to the narratives of Kim Ki-young, an idol of the Korean New Wave of the 1960s (code: The Handmaiden). And while Bong's Host talks about the monsters that are born and die with the script, parasites with a human face that are destroying  a glass villa owned by the new rich man are now at the forefront. It is a dark social farce in which its lower strata scrape their lives with making pizza boxes and opening basement windows to reap the benefits of free pest control. A story that gave us the universal cataclysm of our time, breaking the boundaries between genre and allegory. A story that watches the phantoms of Korean society and releases its parasites.
When I work with Bong, I plan nothing in advance because he does everything for me, said the author's fetish actor Song Kang-ho in Locarno, whose collaboration began with Memories of Murder. In Parasite, he was in another driver role. Only now he's not driving a German reporter (Code: A Taxi Driver), but a wealthy manager who ripped off a piece of the cake in the IT industry boom. Although, he admits that they never talk about movies outside of the set, but about football. That's why Bong and Song would like the documentary of Asif Kapadia Diego Maradona. Unlike Kusturica, who transforms Maradona into a clown, Kapadia relates his mythology to the city in which his fans spread a banner with the inscription: You don't know what you missed! These are Maradona's seven Neapolitan years, which the author views as a kind of Gospel according to Diego. His cult becomes boundless. With the nurses carrying a test tube of his blood to the cathedral where the relics of the Naples saint patron saint of San Gennar are kept. Is this a kid capable of emulating gestures of total love or an arrogant but generous star ready for provocation? The real answer is somewhere in between. We only have memories of that famous goal against England in a loop we can watch forever.
After Alice Rohrwacher (The Wonders), Semih Kaplanoglu (Honey) and Markus Imhoof (More Than Honey), this honeymoon continues in your and our Art-kino with the author's tandem of Tamara Kotevska & Ljubomir Stefanov with Honeyland. We found ourselves in the beekeeping zone again. But unlike the energetic Angelica from The Wonders (played by the author's sister, Alba Rohrwacher), Hatidze lives with her sick mother in the fragile isolation of the North Macedonian remote village. Her gestures are at the same time intimate and humane. It is as if bees recognize her gentle touch. She talks to them and sings songs to them. Her universe is much closer to the meditative Edenic landscapes of Kaplanoglu and Imhof. Because this is a movie that Greta Thunberg would really like.
Terrence Malick's buccal alpine scenery (A Hidden Life), evokes the Swiss segment of Imhof's honey documentary. After To the Wonder, Malick returns to Christian Europe, now through the character of Franz Jägerstätter, who refuses to swear an oath to the Third Reich and refuses to become cannon fodder in the Fuhrer's army. In this case Mont St. Michel replaces the lost paradise of Austrian St. Redegund. You have obligations to your homeland, the local bishop will tell him. It is an extremely moving and sublime piece that tells the story of temptation and sacrifice, love and the waving of grass that continue to swing in the (alpine) breeze as an indispensable motive for a sineast eternally in love with nature.
And while Malick shows what true Catholic antifascism looks like through the story of a man who will become a Blessed, Ognjen Sviličić (Voice) shows what Catholic fanaticism looks like. His character Goran becomes something like a child version of Malick's Jägerstätter, refusing to pray to God, because he is furious with the whole world. And the more they force him to pray, the more rebellious he becomes. We are left with just Anita Ekberg on the dome of St. Peter's Basilica in company with come here Marcello, who in Fellini's La Dolce Vita added to Christianity a sufficient dose of glamor in the mythical scandalous creation of Il Pretino from the Cardinal line of the Fontana Sisters.