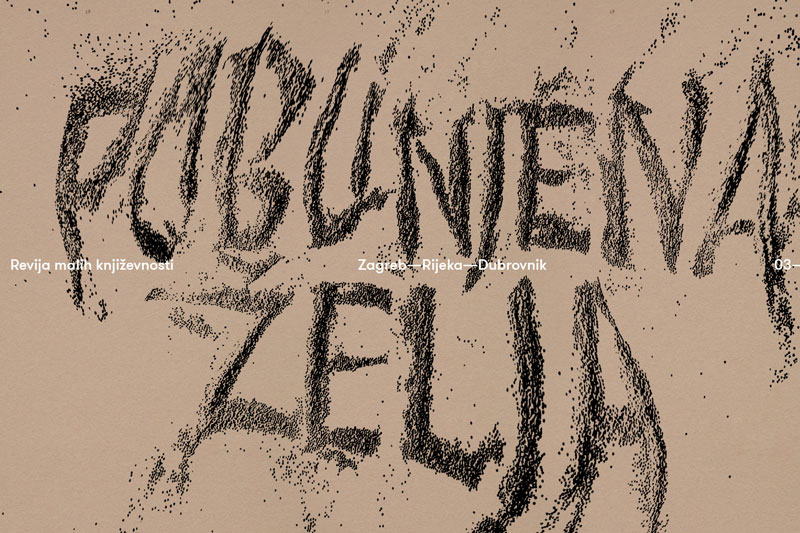 Program
After 13 years and 16 european countries, last year's Booksa Revue of little literatures, was dedicated to contemporary literature of arabic Mediterranean.
This year, the revue turns to Magreb: from 3rd to 7th of December in Zagreb, Rijeka and Dubrovnik which will host authors from Morocco, Algeria, Tunisia and Libya.
An anthology of cotemporary Magreb literature, This body is not a house will be published within the revue.
Revue of little literatures – Riot of desire, will be opened on December 3rd in Zagreb and Rijeka. In Rijeka's Art-kino at 6pm, a poet Lamis Saidi (Algeria), and writers Mohammed Berrada (Morocco) and Habib Selmi (Tunisia) will be introduced to the audience. After the conversation with the guests, Rock the Casbah, a film by Moroccan director Leila Marrakchi will be presented.
This year's revue is a part of the Vectors of collective imagination project.
The boundaries of a wish
This year, the Revue of little literatures continues its collaboration with Human Rights Film Festival which will be held from 2nd to 9th December in Zagreb, and from 6th to 9th December in Rijeka's Art-kino.
The revue and HRFF are preparing a mutual program named Riot of Desire.
Riot of Desire will host writers which have long before surpassed the borders of their countries, although they still haven't been translated to Croatian.
From Morocco comes Mohhamed Berrada, writer, critic, translator of Barthes and Le Clézio, a university professor and author of seven prized novels translated to French, English, Spanish, Portuguese and Norwegian. From Algeria we welcome the poet Lamis Saidi, who writes on Arabic and translates from various languages, while Tunisia brings Habib Selmi, author of eight novels and two prose collections, who was placed twice in the narrower selection for Arab booker, and is considered one of the most important contemporary writers in the world.
Short biographies
Mohammed Berrada (1938.) is a Moroccan author, critic and translator. He has published seven novels, some of which are Fugitive light (1986.), The game of forgetting (1993.), Like a summer that will not come back (2001.) and Neighbour lives (2013.), and his latest novel Mawtoun Moktalif (Different deaths) brought him the Katara award for the best Arabic novel of the year 2017.
His novels are translated to french, english, spanish, portuguese and norwegian. He translated Barthes and Le Clézio to Arabic. Berrada graduated University of Cairo, and received his doctor's degree on Sorbonna.
Lamis Saidi (1981.) is an Algerian poet and literary translator. She has published three collections of poetry and a biograpical essay concering her father, named Room 102. She translates poetry from french, english and spanish. She has translated poetry of Anne Griéki, Yasmine Mechakra, Rabah Belamri, Henri Michaux, Pier Paolo Pasolini and Emily Dickinson on arabic. She graduated computer science, and is working as an organiser and moderator of a cultural program in National library of Algeria, as well as Algerian national theater in Algeirs. She was a part of many literature festivals, some of which are Writers Unlimited in Den Haag and South Africa, Transmediale in Berlin and Voix Vive in France and Spain.
Habib Selmi (1951.) is a Tunisian novelist. He published eight novels and two collections of stories. A novel Bayya's lovers (2002.) has been critically aclaimed, and novels The scents of Marie-Claire (2008.) and The women of Al-Bassateen (2011.) were a part of a narrower choice for the Arab Booker 2009. and 2012. award.
Selmi is one of the most important contemporary writers which write in Arabic. His works have been translated on english, french, norwegian, hebrew. He is working as a professor of Arabic literature. Since 1985. he has been living and working in Paris.
featured
Francuska / Maroko, 2013., director: Laïla Marrakchi, feature film