November in Art-kino
Enjoy your meal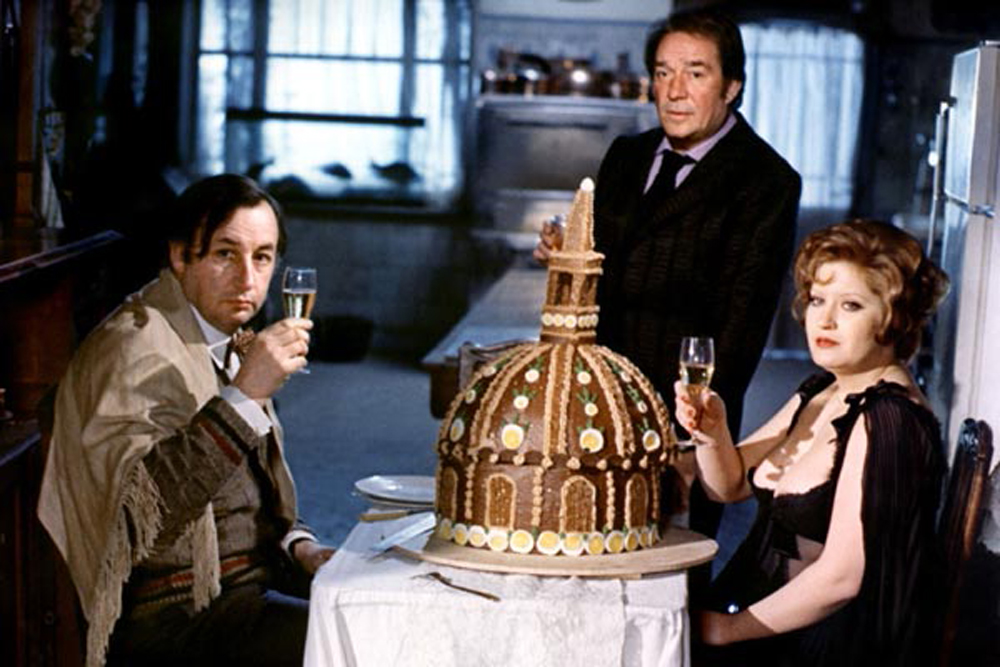 Dragan Rubeša: 31.10.2019.
Enjoy your meal!
In Infinite football, Corneliu Porumboiu watches the monotonous everyday of an offical working in a municipality of a Romanian provincial city, dreaming of making a revolutionary leap in the genesis of football by developing a theory which borders with the absurd - having a goal of speeding up the ball, instead of the player. He becomes a Romanian version of Guardiola, observing football as a space geometry, at the same time being a deviant bureaucrat who treats sports as a definitive illustration of planning. This is why the author's masterfulness hides in that lucid and laid back insanity which boils under the grey and compact epidermis of everyday. Is your utopia political?, the author will ask his actor. The authentic utopia is the one dreamt by Porumboiu, of returning back to the football stadium, giving up on control over pictures, using the stolen Youtube intro of the sports news.
Just like the absurd thesis which the author of Porumboie's documentary is trying to elaborate, the famous tenor in the documentary of Ron Howard (code: Pavarotti) seems like an evangelistic missionary resembling Herzog's Fitzcarrald, who finds himself in Amazonia in order to sermon the natives. He dreams of appeearing in the same theater where Caruso performed. But the theater is closed. Someone will eventually open its doors, so he could step on the stage and perform A Vuchella, an aria composed by Francesco Paolo Tosti, according to the diminutive adorer's lyrics, D'Annunzio. Enormous and miniature. These are the paradox contrasts played by Howard's portrait, where an epopee crashes with melodrama.
In the newest Almodóvar (code: Pain and Glory) febrile and cathartic at the same time, a portret gives up its place to a selfportrait. The film could easily be renamed into Everything about Almodóvar. It's his version of Eight and a half with Banderas instead of Mastroianni. A remembrance of Marilyn in Niagara. A remembrance of a mother washing laundry on the river coast. A remebrance of a movie theater of his youth, which smelled of urine and jasmine. A remembrance of a naked body of a handsome mason rinsing the cement remainings from a bucket, who he secretly used to watch as a boy. He teaches him to write. But the fractures he has are that of an inner nature, when sadness and glory become two faces of the same craving. All that he has left is heroin dust, which he starts to consume in his old days, out of curiosity, completely loosing touch with his own emotions.
Almodóvar would surely like the eccentric vampire piece by Osama Favzi, Fallen Angels Paradise, which will cinematically magnify a literary evening dedicated to two writers - Mansouri Ez-Eldin from Egypt and Lebanon writer Zeina G. Halabi; although it's an adaptation of a novel by Brasilian writer Jorge Amado. The mythic Lebleba which starrs in Favzi's movie, was for the great Chahine the equivalent of Sara Montiel for Almodóvar. A sufficient dose of grotesque is given to us by the exceptional Marco Ferreri, whose apocalyptic The Grande Bouffe, will be shown in the luxurious 35 mm format, only because Aldo Paquola requested. Alongside the analogue farts which resound in Ferreri's orgy of devouring, fucking and menopause self-pitty (the critique Anton Bitel described him as an art-fart satyr). No wonder the italian film ignores this subversive filmmaker, who was soon after embraced by french eccentrics. Urban legends say that after the premiere of Ferreri's piece, Catherine Deneuve refused to speak to Marcello Mastroianni, who portrayed the pilot Alitalie, and was her boyfriend at the time. Enjoy your meal!
After the consumation of Ferreri's perverted haute couisine, there's nothing else to do but to cleanse our stomache with a bitter sweet green tea with rice by Ozu (code: Tea and Rice). Ozu also uses scenes of a single table. But not in the Ferreri's devouring space manner, but as a space of reconciliation. Eventhough, he also leaves his tatami, and goes out on the street, watching cars and trains (remember Hou Hsiao-hsien's Cafe Lumiere), pachinko salons, baseball games and theatre. Ozu's seminal Tokyo Story also starts and ends with trains, as a gentle reminder of transience of time and a distance which separates two family generations.
Whilst Ferreri plays the ultimative indigestibility of haute kitchen and capitalism, Grímur Hákonarson's The County demonstrates that agriculture cannot exist without film culture. Except rams are now replaced with cows. In a fight against the monopoly of milk cooperants, Hákonarson's heroine evokes Erin Brockovich. The only difference lies in the model of rebelion – the latter preferes the american individual model (an individual is enough for the country to be saved), while the first one nurtures the european tradition of the collective (the strength is in the collectiveness). Her rebellion would please KUD Idioti, which would gladly play Bandiera Rossa for her somewhere near an Icelandic volcano. Because, the music still plays in yours and ours Art-kino. With remembrance of Tusta, the happy child of the Pula punk scene.