Be part of this year's 27 TIMES CINEMA!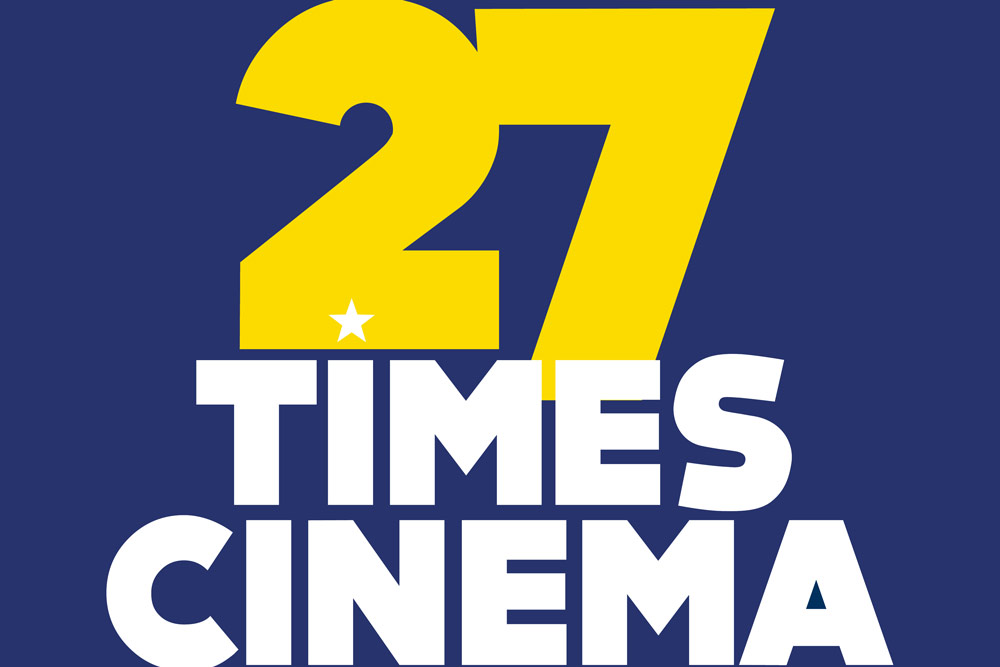 Published: 30.04.2020.
Co-organized with the LUX Prize (European Parliament) and Giornate degli Autori for 10 years now, this great initiative will turn the dream of 27 young European moviegoers to attend the Venice Film Festival into reality! They will constitute the Giornate degli Autori Jury and award a Prize to the best film of this dynamic and diverse selection. Moreover, as of this autumn they will be actively involved in promoting a new LUX Prize European Audience film award by the European Parliament and the European Film Academy.
Art-kino was invited by Europa Cinemas to be part of selection process of candidates for "27 Ambassadors" in each European country. Art-kino will choose only 3 young candidates fulfilling the following criteria:
· Regular moviegoers passionate for cinema aged between 18 - 25 years,
· Good ability to write articles and blogs,
· Active on either Facebook, Instagram, Youtube, Snapchat,
· With aptitude in either podcasting, blogging, video editing, photographing or any other communication tools that could help in building up a communication campaign,
· Good knowledge of English (reading, written and spoken) to actively take part in the discussions around the films with film professionals,
· Important: Regular cinema staff will not be considered for the application process.
Candidates' application must include:
· A VIDEO SELFIE in which the candidate explains "what is cinema" for him/her. S/he should start the video saying "Cinema for me is…" and then develop his/her argumentation.
This video will help us to see how the candidate expresses himself/herself in English and his/her ability to "talk" about cinema. High quality and creativity are required!
Please put the link to the Europa Cinemas' Vimeo channel in order for the candidates to consult previous year's examples.
Technical requirements:
- Videos have to be shoot in English,
- In high resolution (Full HD: 1920x1080 px) and with an excellent audio recording,
- Duration: 30 seconds,
- The following information should be visible on the video: Name and country of origin,
- The videos should be sent to you via Wetransfer.
· THE ONLINE APPLICATION FORM to be completed in English. All questions must be answered. Incomplete forms can't be taken into account.
Application form (it will be available in pdf format once completed) should be sent via WeTransfer to: program@art-kino.org
If selected - you become the Ambassador of Croatia and Art-kino at the Venice Film Festival, and you are expected to:
· Be present in Venice before the start of the festival from Tuesday 1st of September to Sunday 13th September 2020 (festival dates: September 2nd - 12th),
· Be a jury member for the films competing for the Giornate degli Autori. A festival accreditation (giving priority access to screenings of the Giornate degli Autori) will be provided,
· Take part in round tables, discussions, masterclasses and workshops focused on improving their communication skills as influencer and social animator so that they could be actively involved in raising the awareness on the new LUX audience award,
· Contribute to the Europa Cinemas website and social networks,
· Use the following months after the festival to promote and spread the new LUX Prize - European Audience Film Award using the tools learned in Venice and their own capacity in terms of networking and established web community,
· Participate in events organized in the frame of the LUX Prize - European Audience Film Award (mainly January-May of the following year).
The European Parliament will cover the costs of accommodation and travel for each participant for the whole duration of the event (13 days) while Europa Cinemas will take care of their per diem and Giornate will take care of the organization and accreditation. The arrival date is expected to be on September 1st and the departure date on Sunday 13th September 2020.
The deadline for applications is May 31st 2020!