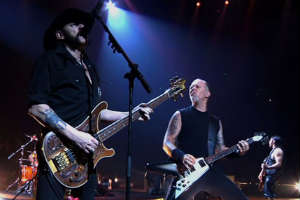 Summary
Dugoočekivani film o Lemmyju Kilmisteru, legendarnom r'n'r odmetniku, koji svojim načinom života i brojnim albumima i koncertima već 40 godina uzbuđuje i oduševljava…Ne samo za ljubitelje Motorhead filozofije, poziv za gledanjem ovog briljantnog i zabavnog filma upućujemo SVIMA! Hrvatska premijera.
Lemmy Kilmister već godinama snima sjajne albume, održava uzbudljive koncerte i vlasnik je jedne od najcool biografija (bio je roadie Jimi Hendrixa, svirao u Hawkwind, pratio The Damned, krajem 60-ih svirao u Rijeci s bendom Rockin' Vicars…). Ultra zabavan, ispunjen razgovorima sa brojnim obožavateljima/rock gostima – Metallica, Dave Grohl, Slash, Ozzy Osbourne, Mick Jones, Peter Hook…, film o Lemmyju je dugoočekivano uzbudljivo filmsko svjedočanstvo.
A možda neki Riječani ne znaju ovu činjenicu – da je Lemmy sa svojim tadašnjim bendom Rockin Vickers nastupio u Rijeci 9. 7. 1965., u kinu "Partizan" ("Teatro Fenice" danas) i izazvao opću pomutnju! I ne samo to - oni su jedan od prvih inozemnih rock bendova koji su nastupili u Jugoslaviji!
Koliko su uzbunili tadašnju riječku javnost svjedoče brojni novinski napisi o ludilu koje je povodom njihova dolaska zahvatilo Rijeku. Tako su u noći prije koncerta "nepoznate osobe razbile izlog kinematografa "Partizan" i odnijele slike ansambla "The Rockin Vickers "koji će večeras nastupiti u spomenutom kinu", piše Novi list 1965., te nastavlja da će "uprava kinematografa u kojem će večeras nastupiti neobični gosti, partneri britanskih Beatlesa, poduzeti zajedno s organima Narodne milicije izvanredne sigurnosne mjere kako bi huliganski izgredi bili u začetku spriječeni".
Uzbuđeni novinari tada su pisali o "kordonu mladića i djevojaka koje su milicioneri rastavljali da prođe autobus "The Rockin Vickers".

DORF ima tu čast da Riječanima ponovno (na velikom platnu doduše) donese Lemmyja!