Dan Europe uz velike filmove iz malih zemalja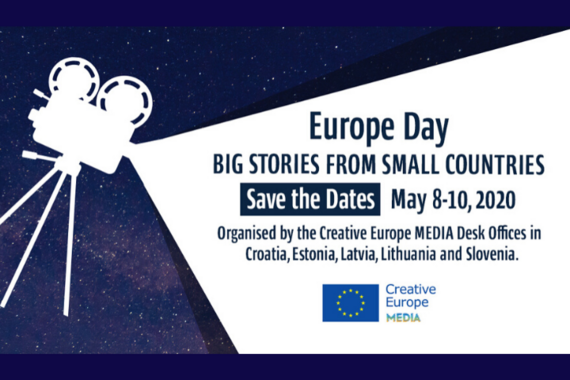 Objavljeno: 05.05.2020.
Desk Kreativne Europe – uredi MEDIA iz Hrvatske, Estonije, Latvije, Litve i Slovenije pozivaju vas da se povodom Dana Europe upoznate s velikim pričama iz malih zemalja i otkrijete zašto im se pridodaje epitet filmskog blaga!
On the occasion of Europe Day, Creative Europe Desk – MEDIA Offices from Croatia, Estonia, Latvia, Lithuania and Slovenia are inviting you to get in touch with big stories from small countries and discover why they earned the epithet of film treasure!
Art-kino is a partner in the implementation of their Europe Day - Big Stories From Small Countries event, which brings free online screenings of four films to viewers from above-mentioned five countries, with support from the MEDIA sub-programme.From 8 May, starting at 20:00, films (co)produced in five MEDIA sub-programme member countries that have won numerous awards at international film festivals will be available for watching during 48 hours to all interested film lovers. The available films are Croatian film The High Sun (Zvizdan) by Dalibor Matanić, Lithuanian film Bridges of Time (Laiko tiltai) by Audrius Stonys and Kristīne Briede, Slovenian film Nightlife (Nočno življenje) by Damjan Kozole, and Estonian film Pretenders (Teesklejad) by Vallo Toomla.
Europe Day celebrated on 9 May every year marks the anniversary of the historical Schuman Declaration from 1950, as well as the first official move towards the creation of the European Union.Numerous events are being held across Europe that focus on content that praises the diversity of the Old Continent, thus making the public aware of the work of all relevant European institutions and organisations aimed at promoting European values.
The MEDIA sub-programme is one of the best examples of promoting cultural diversity. Moreover, it is the only European Union programme intended to develop the European audiovisual industry. MEDIA thus provides funding for the development, promotion and distribution of European films, series, documentaries and video games within Europe and beyond. Since 1991, more than € 2.6 billion has been invested in European creativity and cultural diversity from the perspective of the audiovisual sector, which today covers approximately 8 million jobs and accounts for about 4.5% of the EU's GDP.
The main purpose of the Europe Day - Big Stories From Small Countries event is to present four successful films with support from the MEDIA sub-programme coming from five small European countries: Croatia, Estonia, Latvia, Lithuania and Slovenia. Without the support of the MEDIA sub-programme, whose primary objective is to encourage co-production, films from countries with low production capacity would not be able to achieve instant visibility and competitiveness.*Detailed information on how, when and where to watch films will be published soon on the CED - MEDIA Office Croatia website.